Spreader, Style 4, 2 3/4" x 6 1/2"
SP-41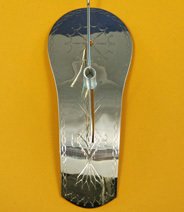 Roach spreaders come in a variety of styles and sizes. Plus each
of our styles is available with 1 socket, 2 sockets, or a Rocker for 2
feathers. This is a larger spreader ideal for a Northern Style Roach or one made with an especially wide base at the front. PLEASE CHECK THE FRONT DIAMETER OF YOUR ROACH AGAINST THE FRONT
DIAMETER OF THIS SPREADER BEFORE ORDERING.
Feather Style
SKU SP-41 1 SOCKET (0) SKU SP-42 2 SOCKETS (4) SKU SP-4R ROCKER (11)
Metal Option
German Silver (0) Brass (0)