Spreader, Style 5, 2 3/4" x 5"
SP-51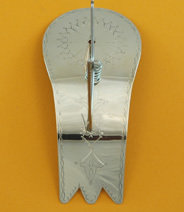 Roach spreaders come in a variety of styles and sizes. Plus each
of our styles is available with 1 socket, 2 sockets, or a Rocker for 2
feathers. PLEASE CHECK THE FRONT DIAMETER OF YOUR ROACH AGAINST THE FRONT
DIAMETER OF THIS SPREADER BEFORE ORDERING.
Feather Style
SKU SP-51 1 SOCKET (0) SKU SP-52 2 SOCKETS (4) SKU SP-5R ROCKER (11)
Metal Option
German Silver (0) Brass (0)